Yes.
If you haven't heard yet, Wal-Mart has really pissed off a lot of people. I'm sure somebody was fired over this…
I heard about this today while browsing my Facebook News Feed. I was shocked! It's hard enough being a plus sized woman, and especially for those with living with eating disorders, body dysmorphic disorder, and self esteem troubles. Personally, this offends me. I am bothered by this because of all of the younger me's out there, and everyone else that it bothered…Wow.
"Well, this is just great. Walmart's website has a "fat girl costumes" section for anyone shopping for plus-size Halloween wear. And — as expected — people aren't happy about it. Shoppers took their complaints to social media to let the brand know they weren't OK with any store that would label their costumes with this description. Rightfully so.
Jezebel caught the giant retailer's offensive error this morning after getting a tip from a shopper who was shocked by the category. AdWeek did their own investigation and found that the politically incorrect section was still live as of 10:30 a.m. EST.  By the time I made my way to the website, I wasn't able to find it. Looks like someone finally caught the error. But, even with their quick attempt to change the description back to "plus-sized," screenshots never go away. Oops.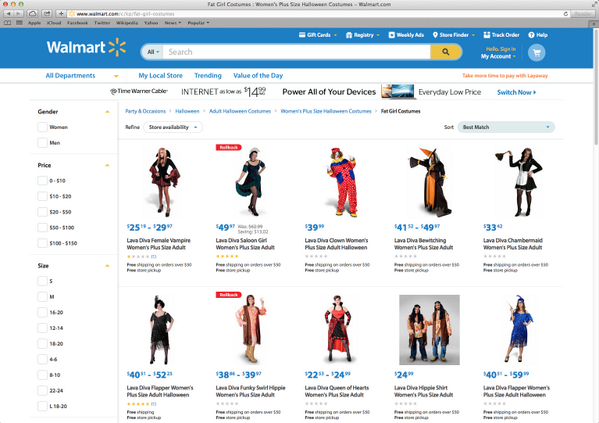 But really — how does this happen? Did an irresponsible intern decide to make a statement on their last day on the job? Maybe an angry employee wanted to troll Walmart in an ill attempt to make what they thought was a joke? Most likely, though, it was a simple mixing up a hidden metadata field with a display field — after all, the URL is /fat-girl-costumes, too — though, really, "fat girl costumes" isn't a big search term, so it was a bad move either way."
*Article via Bustle*
---
What are your thoughts?